The relevance of a website has been very significant the rise of Internet and e-commerce. If the business needs to survive in the current era and wants its product to a larger audience very important for them to have and online presence, website can do that for the business.
A website is a conglomerate of web pages to each other which are usually hosted under a single domain name and produced by person or an organization. After the establishment of the fact that a business needs website progress one needs to figure out how are they going to build a website? Building a website is not something any Tom, Dick and Harry can do.
What is a Website Builder ?
A platform which allows the construction of a website with various tools and no need of coding or active coding knowledge is known as website builder. Website builder is a tool enables an organization to build business technicalities of Information Technology.
Website builder helps with the construction of a website in a very easy fast and cheap manner. Website Builder make the web development very easy and coding free. Website Builders are mostly used to build a private site. They streamline the process of website building. Website construction is a very effortless process with website Builders and there is no coding experience required to do so.
How to Choose the Best Website builders ?
There are various factors a company needs to consider before choosing the best website builder in 2022 for their business. There are various most popular website building platforms out there and at times it can become a very hiring process to choose one of those. It is very important company factors in all the pros and cons of a particular website builder, but before that following are some of the general points to be considered before choosing a website development platform:

1. What is the requirement of the company? : The company needs to be clear about the requirements their business has from the website. It is very important to keep in mind the basic business model before choosing a website builder. The scale at which the website builder provides services needs to be understood and correlated with the business requirements.
2. Room for expansion: Every business has a vision, a vision of expansion. Selecting a website builder keeping in mind the expansion room it can provide in the future is a very wise move. The website builder should eventually be able to feed the expansion needs of the company.
3. Security of the website: Customers are known to be very particular as to where they put in their banking details. It is very important for a website to be secured and even secured looking for the customers to be rest assured that the money is going to the right place. The users might hesitate to go through the whole order placing process on a skeptical looking website.
4. Pricing and budget: Finance is a very crucial part of any business model. It is very important factor in the cost of the website building before choosing website builder. There are various plans out there provided by different website Builders out of which company needs to sort the ones that are beneficial from the financial perspective of the business.
5. Marketability: If you talk about new or smaller businesses there is a head of marketing of the product or services. A lot of website Builders provide with third party integrations like Facebook ads, Google ads very beneficial to the small businesses. The website builder should make it easier to link the social media profiles on the website while development which would make the business more marketable.
6. User friendly websites: The website is for the users or the customers of the business so it is very important that the website is easy to browse through. The user interface should be smooth and understandable. The business needs to make sure that the website displays all the products or services offered by the business.
Advantages of using a website builders

1. Design skills not required: Design is a very important aspect of a website. The website should look full to the customer. The products and its qualities of website designing is going to be the first attractive thing about the business that the customer is going to interact with hence the design should be flawless.
2. Coding skills not required: Constructing a website with the help of a website builder is an easier task as there are no coding skills required to do so. A lot of startups might not be able to afford website developers or someone with required skill set to develop a website, in this situation website builders come in handy and help with the website building process without any coding skills.
3. Cheap and easy: The subscription fees charged by website builder are on monthly basis. It is very cheap for the business to use website builder instead of hiring a Website developer in-house.
4. Can focus on the core business: When the building process is taken care of so easily, it leaves a lot of room to focus on the other aspects of the business. It is easier to channelize towards more day to day stuff like marketing, finance, research and development etc.
Disadvantages of using a website builders
1. Limited area for customization: There are readymade templates with the website builders. It is almost impossible to customize those templates according to the needs of the business which would result into your website looking like very basic one. The features and the design could be repetitive.
2. Not very efficient with search engine optimization: The website builders are not very efficient with the Search Engine Optimization it is not for small and new businesses. This is the result of messy coding and would eventually lead to lower rankings of a website on Google.
3. Learning a coding language is not so tough: If you want your website to look like a professionally built website it is easier to learn HTML then to go through the whole process of website building through a website builder. Learning a coding language like HTML is not a tough process. It is always better to build a website from scratch.
4. Not suitable for professional businesses: The look that the website builder provides to your website is not very professional. It is very repetitive and basic which might not look good for professional business.
List of most popular website builders: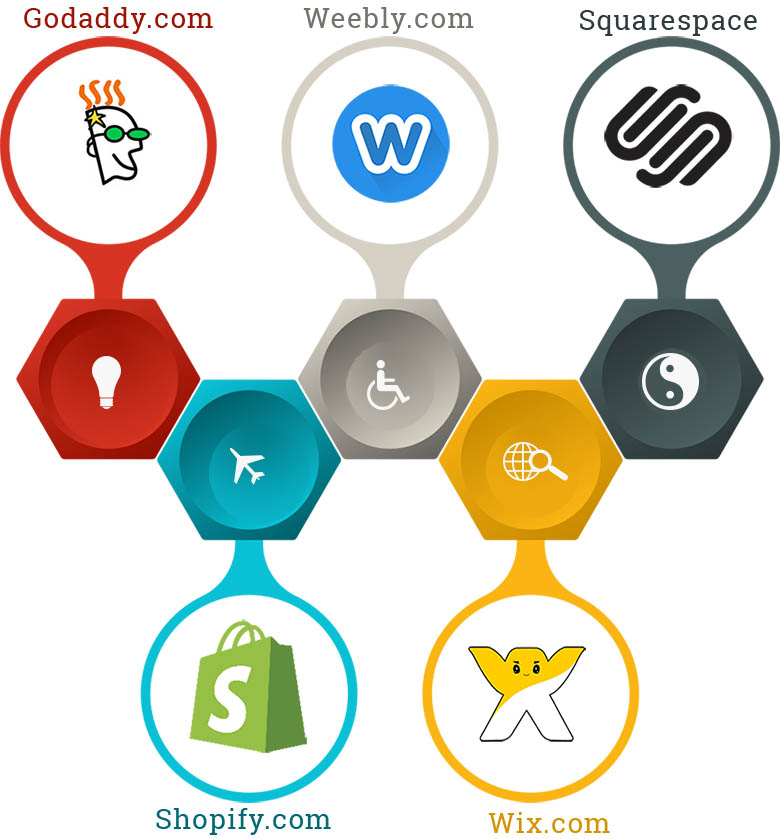 1) Wix
Wix is best known among the small and individual business users. If you are looking to create just a pretty website wix is your thing. Wix is one of the most popular website builders in 2022. It has very beautifully captured the market hundred 10 million users. It is also very beginners friendly which makes it very most popular website building platforms.
Advantages of Wix:
User interface is intuitive and friendly
There are no long term plans to lock you with the company
You get all in one solutions with Wix
The updates in the template designs are received regularly
Disadvantages of Wix:
The basic plans are not Ad free
Limited creativity with drag and drop function
There are no unlimited plans available
SEO is not as pretty as the website looks with Wix.
Pricing of Wix:
The plans ranges from $23 to $49 and 3 plans are provided within this price range.
Official Website of Wix
2. Squarespace
SquareSpace is one of the website development platforms used by a wide range of customers. It is very Beginner friendly just like wix. , it is very prominent among bloggers, small businesses, individual business owners etc. It also provides traditional E-Commerce tools to the users.
Advantages of Squarespace:
The themes can be customized 
The customer support is unremarkable
Very prominent with event promotions, sending invites and RSVPs 
Best for subscription box supplier
Disadvantages of Squarespace:
The platform often discontinues a feature or adds new which is difficult to keep track
Offers limited shipping and payment solutions
Not expandable
Pricing of Squarespace:
2 pricing plans offered $30 or $46 per month and the payment if made annually can save money costing the subscriptions to be $26 or $40 per month respectively
Official Website of Squarespace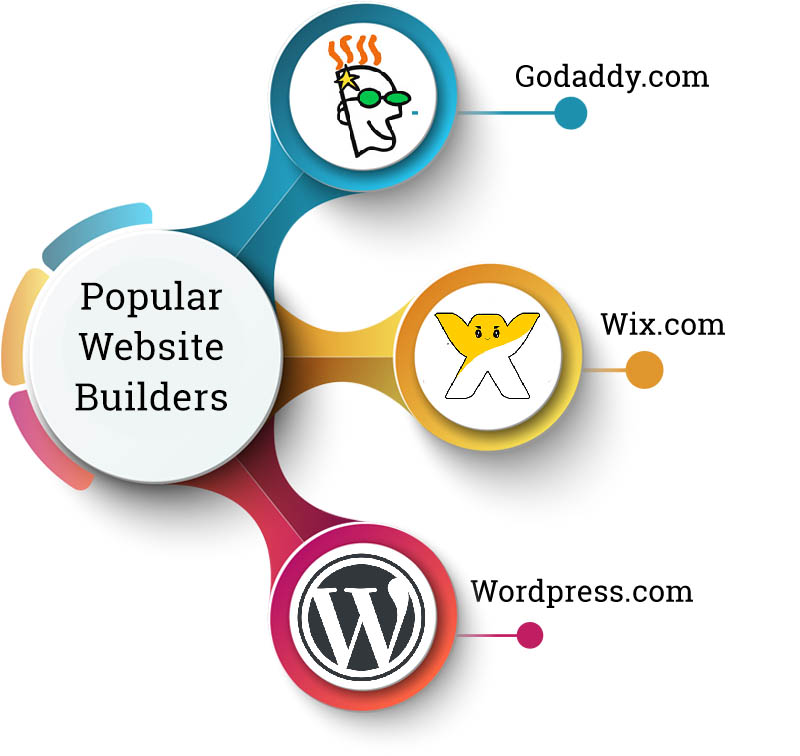 3. GoDaddy
Godaddy is a website developer that has been very prominent since years. The main products web development provided by Godaddy is domain name and hosting the website.
Advantages of GoDaddy:
Website performance is flawless causing less restoration need
Support quality is great
The security is high end 
Domain maintenance and web hosting and transfer of domain name 
Disadvantages of GoDaddy:
The restoration cost is higher as and when required
Limited customizable website templates 
Pricing of GoDaddy:
Basic plan costs $19.99 per month whereas the other 2 plans costs $29.99 and $89.99 per month.
Official Website of GoDaddy
4) Weebly
Weebly is most known largest free eCommerce website builder and hence becoming a popular website builders in 2022. It was acquired by squarespace back in 2018. It is also commonly known for the drag and drop feature it provides while developing the website. To  put the success of Weebly in numbers we can say it has helped over 50 million businesses to develop website.
Advantages of Weebly:
It is open source and there are free trials available
Drag and drop feature makes it easier to use
Adding functionalities is easier whether created in-house or third party apps 
Disadvantages of Weebly:
Sorting and filtering is not a tough task at Weebly
Restoring the website is only possible if you contact the support team
Customization not possible
Pricing of Weebly:
Free version or trials available
Official Website of Weebly
Pro version costs $12 per month where as the business version costs $25 per month
5) Shopify
Right off the bat shopify can be classified as one of the most popular E-commerce website builders with over 800,000 online stores. There are wide range of services provided by shopify starting from website hosting, digital marketing, product management etc, which is going to make Shopify top most popular website builders in 2022 It also provides install support as well as online support which helps the business to function both ways. It is pretty hard to compete in the market with a big fish like Shopify.
Advantages of Shopify:
POS solution for the business looking for in-store and online 
Stock management tools provided are efficient
Payment services are built-in
Customization tools for various beautiful designs of the website
Social media accessibility is great
There is a great room for expansion
Disadvantages of Shopify:
Does not support the sale of products other than physical and or digital i.e. no sale of content like lectures or courses supported. The process is not as smooth as other service providers in the market
Blogging is not one of the strong areas 
Pricing of Shopify:
No free version or trials available
The most basic plan starts with $29 which provides with 2 accounts, unlimited access to sales channels and products along with various marketing tools
There are also a few premium plans that run from $79 to $299 per month with a extra sales tools and advanced reporting tools 
Shopify provides with an enterprise version for lager organizations which leaves room for growth of the business
Official Website of Shopify
6) WordPress.com
WordPress classify themselves to be the world's most popular website builders. Rightly so 43% of the web is developed on WordPress. Just like other website development platforms, WordPress is also commonly used by bloggers and small businesses but the added advantage with WordPress is that it also represents lot of fortune 500 companies. The website has a very professional touch when developed with the help of WordPress.
Advantages of WordPress.com:
Extremely user friendly web designing
It is very responsive
It is an open source website development platforms
SEO is not compromised by WordPress
Disadvantages of WordPress.com:
As it is open source it vulnerable to security threats
The speed is not the best when we talk about WordPress websites
Customization is tough
Pricing of WordPress.com:
The most basic plan costs $11 per month which may go up to $40 per moth
Official Website of wordPress.com